Dec. 14-18: Santo Domingo,
Dominican Republic
Wife Jeanne and I flew from Gainesville to Santo Domingo (
Google map
for me to make a series of appearances at Dominican news organizations.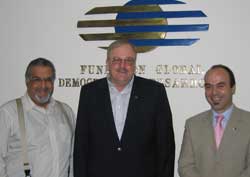 We stayed at the home of Dan Kubiske, co-chair of SPJ's International Journalism Committee, and visited Clave Digital, the American Center, Caribe, FunGlode and met with editors and publishers of other newspapers.
The hope was to begin bringing the SPJ Code of Ethics to Latin America. I brought 50 copies of the code in Spanish and distributed all of them in the various newsrooms.
We had planned to meet with the incoming president of the Inter American Press Association, but he had to cancel because of a family emergency.
The photo was taken at FunGlode. L-R: Fredric Eman-Zade, director general, Carlson, Iban Campo, Director of Communications.