Feb. 20: St. Augustine, Fla.
Flagler College in St. Augustine (
Google map
) is forming a brand new SPJ chapter, its first ever.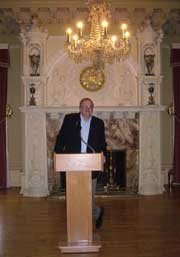 I drove over on Monday afternoon to speak at the chapter's first official meeting. It was held in a ballroom in the old Hotel Ponce de Leon, a spectacularly beautiful building built in 1887 as a luxury resort. Henry Flagler, a co-founder of Standard Oil, was the builder.
After the meeting, Dr. Helena Sarkio, the chapter adviser and a former colleague at the University of Florida, took me, her dean and the chapter president and vice president to dinner at the Columbia Restaurant in old St. Augustine. The fare: Spanish.
Dr. Sarkio shot this picture.